Bachelor of Science (Honours) in Applied Computing (JSSH03)
Programme Introduction
From AI and mobile computing to e-commerce, computers and their applications have become the enabling technologies for modern society and smart cities in the future. However, Hong Kong and the world at large are now facing a shortage of software development experts. Our Applied Computing degree programme aims to train computing and IT professionals for various sectors.
BSC-AC is a career-oriented programme that focuses on the essential skills related to software development, with selected traditional and advanced topics from computing, computer science, as well as user-interface design. The focus is on the practical aspect rather than theoretical. The programme is supplemented by subjects in various application areas
Please click here for programme details.
Admission Assessment
Where necessary, admission interview will be arranged for selective applicants.
If applicants are invited for interview, they are required to attend according to the scheduled time and date. Lower priority will be given to those applicants who fail to do so.
Interview will be conducted during the period from May to July every year. Selective applicants will be notified of the details via email.
Admission Policy
BSC-AC programme adopts a Best Five Subject policy. The admission score is calculated based upon the summation of the weighted score of best five subjects. Besides, the performance in the interview will also be an important consideration.
*Remarks: Applicants must fulfill programme's minimum entrance requirement (i.e. Core 5 excl. M1/M2: 33222).
Subject Weighting
The following table shows the minimum level requirement and subject weight of HKDSE subjects. There are three levels of subject weight (1, 2, and 3) for the calculation of the weighted score.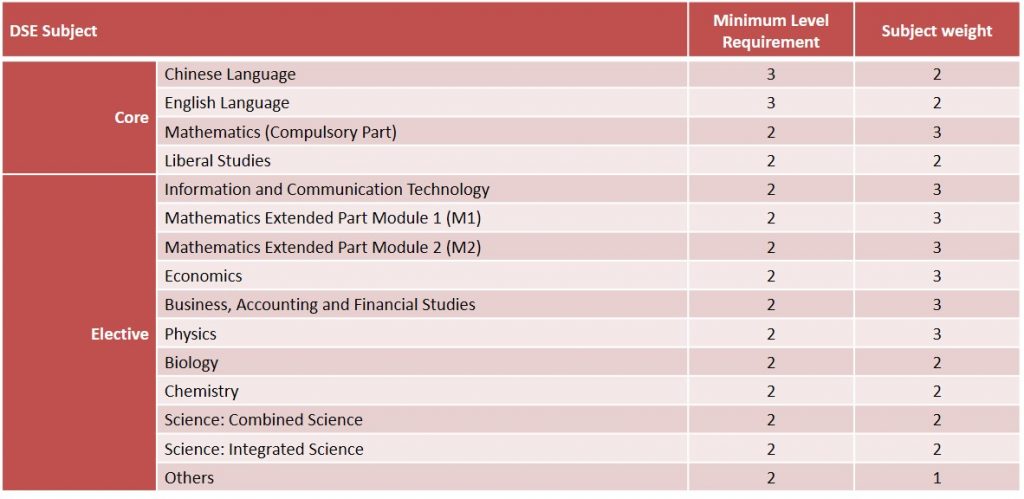 The following table illustrates an example of admission score calculation under our scoring system.