Bachelor of Arts (Hons) in Applied and Human-Centred Computing (JSSH03)
Programme Introduction
From traditional software development to mobile computing, from e-commerce to artificial intelligence (AI), Hong Kong is facing a shortage of expertise in software development. Our programme aims to train computing professionals in the following areas:
Computing and Computer Science
Our programme provides solid training in computer programming, software development and related topics in computing. Students can also learn about the latest trend in computer science, including AI and e-commerce, and other areas in the frontier of computing and information technology.
Human-Centred Computing
Our programme provides supplementary knowledge of graphic design and human-computer interaction. Students will learn to develop software products that are user-friendly and attractive.
Please click here for programme details.
Admission Assessment
Where necessary, admission interview will be arranged for selective applicants.
If applicants are invited for interview, they are required to attend according to the scheduled time and date. Lower priority will be given to those applicants who fail to do so.
Interview will be conducted during the period from May to July 2021. Selective applicants will be notified of the details via email.
Admission Policy
BA-AHCC programme adopts a Best Five Subject policy. The admission score is calculated based upon the summation of the weighted score of best five subjects. Besides, the performance in the interview will also be an important consideration.
*Remarks: Applicants must fulfill programme's minimum entrance requirement (i.e. Core 5 excl. M1/M2: 33222).
Subject Weighting for 2021-22
The following table shows the minimum level requirement and subject weight of HKDSE subjects. There are three levels of subject weight (1, 2, and 3) for the calculation of the weighted score.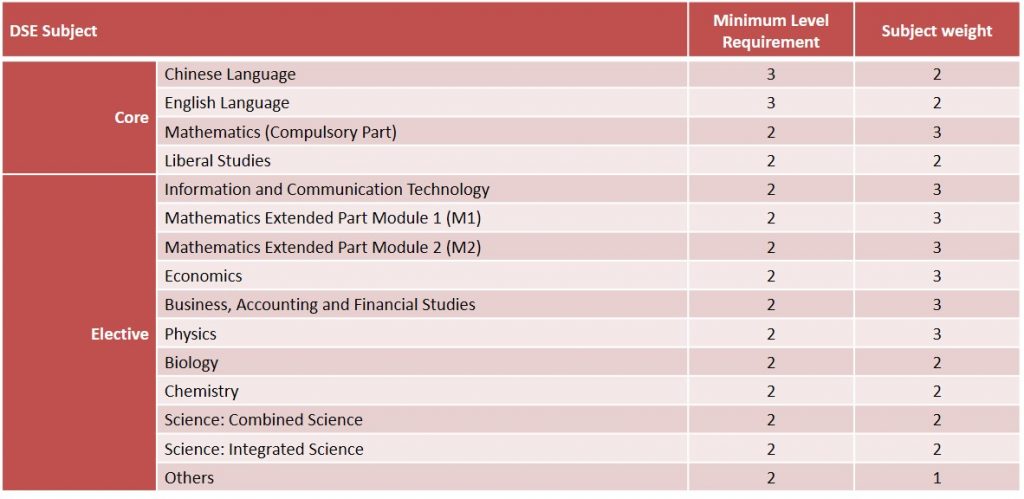 The following table illustrates an example of admission score calculation under our scoring system.